Hi!
My name is Gonzo!
I am a little girl puppy!
Note from Officer Roger:
There apparently is a thought that Gonzo is a West Highland Terrier breed. We do not know. We know she is a mixed breed, of small stature. Our family does not want to say Gonzo is any particular breed. Gonzo is simply a little bundle of fur, full of love and affection. Thank you.
And this is my story.
On March 20, 2000, I was found under a trash dumpster by a really nice Policewoman.
She didn't think I was going to live, because it was raining, cold, and I was just a little baby. Officer Pam took me to a really nice Animal Hospital, and they took care of me all that day.
This is a picture of what I looked like when Officer Pam found me.
I was so little that my eyes weren't even open all the way!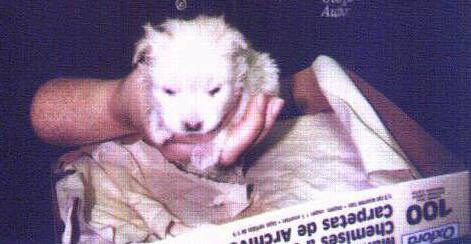 Dr. Keith Purcell said I was only 15 days old.
I didn't have anyone to love me.
Some mean person just threw me away.
That wasn't very nice, was it?
Another nice policeman decided to look in the trash dumpster to see if I had any brothers and sisters, but he couldn't find any in there, so he adopted me.
This is Officer Roger.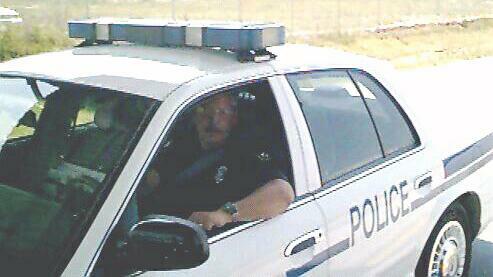 Here is Officer Roger's home page.
Because I was just a little baby, the staff at the Westside Animal Hospital had to take care of me.
They were really nice. They fed me, and bathed me, and took care of me, until I could go home with Officer Roger.
I only weighed 7 ounces when I was found.
March 27, 2000
Now, because someone loves me, and someone took care of me, I weigh
a pound and a half! My tummy is getting big,
I smell good, and I am loved!
March 31, 2000. I now weigh 2 1/4 pounds!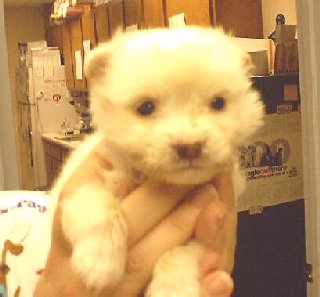 Do I look like an Ewok?
What's an Ewok?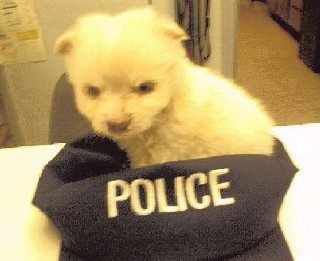 Good thing I already went Potty before Officer Roger put me on top of his hat!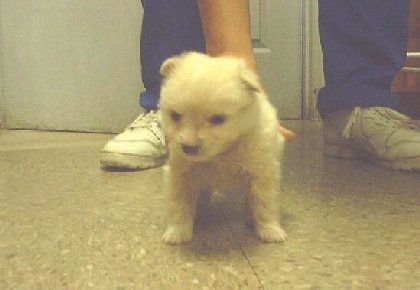 Don't I look cute!
That is my friend, Mandy, at the Animal Hospital.
She is helping me walk. It sure is fun to know that I can run, and play. But because I am little, I fall down a lot. Everyone laughs at me when I fall. But that is ok, because it is fun to laugh and play, right?
I am going to grow up and have lots of fun playing and being loved.
Don't be mean to animals, they need love too.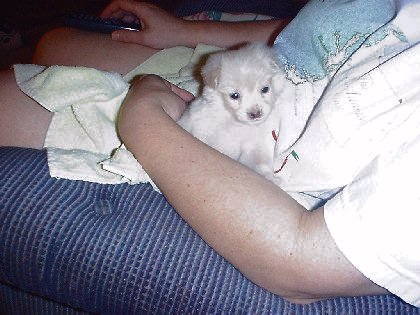 This is my new Mommy, Kim.
She is married to Officer Roger.
I like her a lot!
I even have a big sister!
Her name is Missy.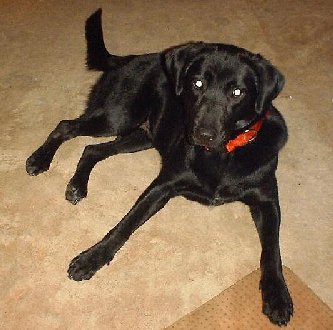 She is a Black Lab, and we made friends fast. Missy helps keep me warm, by letting me cuddle up to her. Missy and I are going to have lots of fun playing, when I get bigger.

Officer Roger said that he will put more pictures of me here, so everyone can watch me grow up.

UPDATE...APRIL 14, 2000
WOW! I have a really BIG yard to play in! Hey..guess what?? I now weigh 3 1/4 pounds! Boy, am I growing fast!

And sometimes, me and my MOM, watch TV together.
Me and Missy are really good friends!
We play a lot!
October 2000 UPDATE!
Officer Roger has not had much time to update my homepage, but..here is a picture of me near the back patio of my house. What do you think of me now? I have grown up! Officer Roger said that I have to go in for an "operation", next week?
Note from Officer Roger: Gonzo has had her spaying operation, and all is well.
Will you come back and see me?

I hope so.
You can write me a letter if you want, maybe your Mommy or Daddy will help you write the letter?
Officer Roger said he will read the letters to me.
Come back soon.
Bye!
Click here to send mail to GONZO!